Hiroshima
3 panoramas by sachio izumi
Ground Zero
This is the wreckage of the Hiroshima Prefectural Commercial Exhibition Hall destroyed by the first A-bomb on August 6, 1945. The bomb exploded in the sky about 600m above this building, the lives of more than 200,000 people were lost by this one bomb, and a town area in a radius of 2km was turned to burning ruins instantly.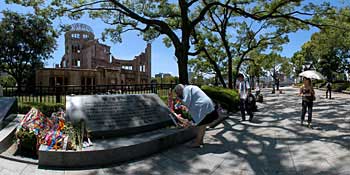 Hiroshima dome
From Aioi bridge
Aioi bridge is at the north side of the Hiroshima Peace Memorial Park. This bridge is of a very unusual T form: from the centre part of one bridge, another bridge is built. It is said that it was the target for the bombing due to its shape very visible from the sky.
It was restored after the war, but due to deterioration a new bridge had to be built over it in 1983. A main pillar leaving a trace of the bombing is stored in an edge of the bridge. In addition, one copy of a girder blasted by the bomb is exhibited in the Peace Memorial Museum.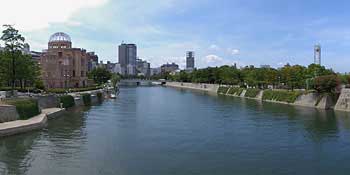 Aioi bridge
The night of the 60th anniversary
It is the night of the 60th year since the atom bomb was dropped on Hiroshima.
People are remembering, praying and mourning. Lanterns are put afloat on the river, in remembrance of those that seeked shelter there and died.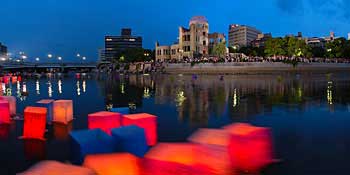 60th anniversary
©2005 Sachio Izumi